Brazil Uprising & First Nation People World Revolution 2013
Thousands of people gathered around the stadium #Maracana in Rio de Janeiro, #Brazil. 10,000 policemen and soldiers surrounded them protestors. The protest broke out just minutes before the start of the Brazil-Spain final of the Confederations Cup. Brazilian president Dilma Rousseff has said she is pushing for reforms aimed at appeasing the protestors that have left at least four people dead in cities across the country, with over a million demonstrators on the streets in the largest protest in Brazil ever. "I think what we are going to see over the next year or so really is protests because they have woken up." -Lucy Jordan journalist.

July 1st Rio de Janeiro, Brazil
POLICE from a LA metro-area unit SHOOT, KILL, a MAN's DOG, while they ARREST him for the crime of RECORDING THEM! Video of this attack has gone viral sending thousands into the streets not just in Brazil, but across cities around the world. People know what is right and what is wrong. You can't hide that. In one of the most cold-blooded acts ever seen, the officer shoots the dog four times. I recommend that you not watch this video as it turns the stomach. Average, every day people get taken down and threatened with deadly force for committing egregious acts like… photographing the police, not just in Brazil, but all across the world. Journalists were beaten despite Press Passes in New York's Occupy, Turkey's Prime Minister has declared a Twitter War, kidnapping bloggers… To see this culture of fear continue on within the 'Land of the Free', one can't help but wonder…The world order is wrong. Freedom of Speech is a human right, as wrong doings shall not continue to go unnoticed. Mass press media already buries headlines which should be on front page covers. The entire world is in Revolution, all in their own ways, like waves growing in intensity. People are awake to truth. Internet Wars are War upon you, encroaching everyone into a giant 1984 society, but one that does not care about your life, your health, or your pursuit to happiness. Mankind is on the brink of RENAISSANCE. Wisdom is pouring out collectively unlike ever before in history. Not every human being uses their mind with reason, compassion, or mindfulness. Some are just brute animals, who get up, go to work, eat, sleep, shit, have a little sex, and listen to musical sounds- that is animal consciousness. To be aware you must first question your thoughts. Thoughts are energy. The choice is between Love & Fear.
In Belo Horizonte, Brazil: protesters, blocked by the police from walking through the House of Councillors, painted HEARTS on the police shields. Soldiers of Love. 6/29
Brazilian protests swells to millions: government calls emergency meeting
Huge nationwide marches against corruption, police brutality, poor public services and excess spending on the World Cup have broken out simultaneous in more than 100 cities, with a total turnout that may have been close to 2 million. An estimated 110,000 marched in São Paulo, 80,000 in Manaus, 50,000 in Recife, and 20,000 in Belo Horizonte and Salvador. Clashes were reported in the Amazon jungle city of Belem, in Porto Alegre in the south, in Campinas north of São Paulo and in the north-eastern city of Salvador. Many journalists, were hit by rubber bullets. Brazil's president, Dilma Rousseff, and key ministers are to hold an emergency meeting on 6/21 following a night of protests that saw Rio de Janeiro and dozens of other cities echo with percussion grenades and swirl with teargas as riot police scattered the biggest demonstrations in more than two decades. The protests were sparked last week by opposition to rising bus fares, but they have spread rapidly to encompass a range of grievances, like the eviction of natives to build a parking lot for the World Cup. "Stop corruption. Change Brazil;" "Halt evictions;" "Come to the street. It's the only place we don't pay taxes; "Government failure to understand education will lead to revolution." Rio authorities sealed off the state legislature building, the state governor's office, Guanabara Palace and the mayor's office.
Some were furious that the police action seemed indiscriminate. "Where we had been tranquil, then suddenly they started firing gas into the crowd. People were scared and appalled," said Alessandra Sampaio, one of the protesters. "They are cowards. They wanted to disperse the crowd never mind who it was. I'm very angry. It was a real abuse of power." Victor Bezerra, a law student, said the police action was like something from the dictatorship era. "These are bad days for Brazil. The police were acting just like they did 30 years ago." Despite the crackdown, many said they would return to the streets for the next demonstration, planned for Saturday.
Brazil has 'Awakened.' What started in January of 2011, igniting Egypt's Revolution, Tunisia, the United States Wisconsin Protests, The Arab Spring, The London Riots, Bahrain, Greece, Spanish  M15 Indignados, Italy, Portugal, France, Occupy Wall Street, which became a Global Movement in 2012 with nearly every nation in revolution and civil unrest. Banking fraud from the highest levels, corruption in world authority leadership, an EU takeover by 'The Goldman Sachs Project,' 'Hair-cuts' and Austerity Wars spread like a virus globally upon all mankind have spurred out of financial greed and globalization. 9/11 ignited the machine of war, unending forever more, with massive police militarization, citizen spying,indefinite detention torture camps, repressive free speech and right to protest, removal of Constitutional Law in guise of False Securities, like hands down the pants TSA's broken 4th amendment brigade, and the total end of THE UNITED STATES OF AMERICA. In 2010 the Citizens United Supreme Court hearing held that corporations, which are nowhere mentioned in the Constitution are not organizations, but rather people, and are allowed to spend unlimited sums promoting or destroying candidates for public office. The United States of America is a corporation. The president knows this, as he is the leading CEO. THE PEOPLE have lost control of their government to a Neoconservative coo upon America. The PNAC & CLEAN BREAK ACT terrorists have devastated the entire planet with war and fraud. People are awakening everywhere to the fact that we are all human beings and we all deserve respect. All are fashioned by the same creator. In a world thriving in money, poverty can end, every child may be well nourished, fathers & mothers don't have to slave away their lives, children can be educated, true healing & nutritional wisdom is growing. A RENAISSANCE is upon this new age of global community. People are coming together to solve a problem of a runaway global dictatorship & the people will.
June 17 2013
More than 250,000 Swarm Brazil Congress, smash their way in…
SAO PAULO, June 17 (Reuters) — As many as 200,000 demonstrators marched through the streets of Brazil's biggest cities on Monday in a swelling wave of protest tapping into widespread anger at poor public services, police violence and government corruption.
The marches, organized mostly through snowballing social media campaigns, blocked streets and halted traffic in more than a half-dozen cities, including Sao Paulo, Rio de Janeiro, Belo Horizonte and Brasilia, where demonstrators climbed onto the roof of Brazil's Congress building and then stormed it.
Around the country, protesters waved Brazilian flags, dancing and chanting slogans such as "The people have awakened" and "Pardon the inconvenience, Brazil is changing."
The epicenter of Monday's march shifted from Sao Paulo, where some 65,000 people took to the streets late in the afternoon, to Rio. There, as protesters gathered throughout the evening, crowds ballooned to 100,000 people, local police said. At least 20,000 more gathered in Belo Horizonte.
The demonstrations are the first time that Brazilians, since a recent decade of steady economic growth, are collectively questioning the status quo.
The protests have gathered pace as Brazil is hosting the Confederation's Cup, a dry run for next year's World Cup soccer championship. The government hopes these events, along with the 2016 Summer Olympics, will showcase Brazil as an emerging power on the global stage [being part of the B.R.I.C.S. superpower force].
Brazil also is gearing up to welcome more than 2 million visitors in July as Pope Francis makes his first foreign trip for a gathering of Catholic youth in Rio.
"For many years the government has been feeding corruption. People are demonstrating against the system," said Graciela Caçador, a 28-year-old saleswoman protesting in Sao Paulo. "They spent billions of dollars building stadiums and nothing on education and health."
Read More: http://sportsillustrated.cnn.com/soccer/news/20130617/brazil-protests-confederations-cup/#ixzz2WZy3vOSR
http://www.cbsnews.com/8301-202_162-57589749/100000-line-streets-of-brazil-to-protest-corruption/
Once again, it's kicking off everywhere: from Turkey to Bosnia, Bulgaria and Brazil, the endless struggle for real democracy resonates around the globe.
What do a park in Istanbul, a baby in Sarajevo, a security chief in Sofia, a TV station in Athens and bus tickets in Sao Paulo have in common? However random the sequence may seem at first, a common theme runs through and connects all of them. Each reveals, in its own particular way, the deepening crisis of representative democracy at the heart of the modern nation state. And each has, as a result, given rise to popular protests that have in turn sparked nationwide demonstrations, occupations and confrontations between the people and the state.
In Turkey, protesters have been taking to the streets and clashing with riot police for over two weeks in response to government attempts to tear down the trees and resurrect an old Ottoman-era barracks at the location of Istanbul's beloved Gezi Park. But, as I indicated in a lengthy analysis of the protests, the violent police crackdown on #OccupyGezi was just the spark that lit the prairie, allowing a wide range of grievances to tumble in, ultimately exposing the crisis of representation at the heart of Erdogan's authoritarian neoliberal government.
Now, protests over similar seemingly "trivial" local grievances are sparking mass demonstrations elsewhere. In Brazil, small-scale protests against a hike in transportation fees in Sao Paulo revealed the extreme brutality of the police force, which violently assaulted protesters — even pepper spraying a camera man, shooting a photographer in the eye with a rubber bullet, and arresting those carrying vinegar to protect themselves from the tear gas. After four nights of violent repression this week, the protests now appear to be gaining momentum.
Fed up with increasing inflation, crumbling infrastructure and stubbornly high inequality and crime rates, many Brazilians are simply outraged that the government is willing to invest billions into pharaonic projects that do not only ignore the people's plight but actively undermine it. The militarization and bulldozing of the poor favelas and indigenous villages ahead of the 2014 World Cup and 2016 Olympics are a case in point. As usual, the ruling Workers' Party seems more concerned about pleasing capital than helping workers.
http://roarmag.org/2013/06/protests-brazil-turkey-bosnia-bulgaria/
Demonstrators protest in front of the National Stadium, some holding signs that read in Portuguese; "We don't want stadiums, we want more hospitals,' and "We don't need stadiums, we need education, health and security," before of the opening soccer match of the Confederations Cup between Brazil and Japan, in Brasilia, Brazil, Saturday, June 15, 2013. The protesters are complaining that too much money was spent for the World Cup while the local population continues to struggle. Photo: Tales Azzoni
Thousands of protesters took to the streets of Brazil's two biggest cities Thursday to rage against 10-cent increases in bus and subway faresPicture: EPA
An estimated 5,000 protesters, most were university students, blocked main avenues and vandalized buildings in central Sao PauloPicture: AFP
http://www.telegraph.co.uk/news/picturegalleries/worldnews/10120988/Brazil-bus-ticket-protest.html?frame=2590540
n.
São Paulo, Brazil : More than 20,000 people, 6/13/13 night around 7:10 p.m., 20 men in riot gear of the State Police arrived at the city's protests on recent bus fare hikes and began shooting rubber bullets and tear gas into the crowd. At least 55 people have been injured so far, including six journalists, two of whom have been shot in the face. This photo is not from a country in civil war, is not a country of a dictator, is not an ethnic massacre, is a peaceful manifestation for improvements in public services such as transportation primarily, but health and education as well. As of June 10th protestors started protesting. National media is still not covering this uprising. It is not terrorism. It is what happens when a society wakes up to policies which benefit the governing while destroying those in need. Politicians are using military force to kick out those in poverty around the 2014 World Cup arena to build parking lots. THIS is the response from the government………………..
.Do they remove their moral compass when they put their stupid uniforms on…? No matter what country …the US, UK , Brazil or Turkey….what is it with the job of being a policeman… these men are not police. They lost that respect. These men are Nazis. End Nazism. #changebrazil
https://www.youtube.com/watch?feature=player_embedded&v=AIBYEXLGdSg
http://www.spot.com.ng/gist/13-shocking-pictures-of-brazilian-military-police-brutalizing-protesters-photos/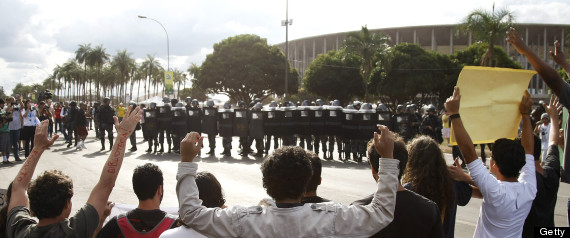 What Happened to Create this Uprising?

Indians, police clash at Rio complex near Maracana to be razed for 2014 World Cup : 3/23/2013 Brazil :::The government sent out a notification to the Maracanã Indians who live inside the historical building that hosts their Museum and that our so called governor, Sérgio Cabral, is going to demolish in order to make it a PARKING LOT for the World Cup. Yes, this is why they wanna put down an HISTORICAL BUILDING and put 150 Indians, including old men and children, on the street. The Indians had accepted the government's offer to leave the compound in exchange for land on which to build a new settlement in northern Rio de Janeiro. Protesters and journalists were temporarily blinded after officers fired tear gas and pepper spray and detonated stun grenades in the thick of the crowd. "It was a show of unnecessary force," said Marcelo Freixo, head of the Rio state legislature's Human Rights Commission, who had taken part in the negotiations. "The Indians had agreed to come out and they were coming out. Indians from across Brazil regarded the site as a safe place to stay when they came to Rio to pursue an education, sell trinkets in the streets or get medical treatment, and dozens of people regularly cycled in and out. At another tense moment, a police officer fired a canister of pepper spray over the wall and directly into the Indians' faces.The ever-growing crowd of supporters outside the complex responded with chants of "fascists, fascists," and "police are the shame of Brazil.
A young woman supporter of a native Indian community living at the Brazilian Indian Museum is dragged an unnecessarily beaten by a military officer during a protest against the community's eviction in Rio de Janeiro, March 22, 2013.
Brazilian riot police armed with batons, teargas and pepper spray have forcibly evicted an indigenous community from a dilapidated museum complex next to the Maracanã football stadium.
The forced relocation, which led to scuffles, arrests and accusations of brutality, comes amid growing pressure on the hosts of the next World Cup to accelerate preparations that have fallen far behind schedule.
"We were negotiating, and then the government resorted to force," said Urutau Guajajara, a bare-chested man wearing a feathered headdress who described himself as a professor of the Guajajara ethnic group. "The police were very violent."
"It was shocking," said Ingrid Paul, an Argentinian who has lived in the community for the past three weeks. "The police were obviously preparing for a fight. They came in with masks at 2:30am. We were all affected by the gas, even a three-year-old child."
In the aftermath, police and TV helicopters buzzed overhead. Officers armed with automatic rifles cordoned off the area and several dozen police vehicles – including armoured personnel carriers – lined the streets.
http://climate-connections.org/2013/03/25/brazilian-riot-police-evict-indigenous-people-near-rios-maracana-stadium/
June 14th 2013
Protesters burn tires in front of the Mane Garrincha stadium, site of Saturday's Brazil-Japan match.
BRASILIA (Reuters) – Police fired tear gas and rubber bullets at protesters before the opening Confederations Cup match in Brazil on Saturday, leaving more than 30 people injured outside the stadium in an ugly start to the tournament.
The activists were protesting against what they see as excessive use of public funds for stadiums and sporting events instead of health and education programs, according to local television network GloboNews.
Police reacted by firing rubber bullets and tear gas, some of which blew towards supporters who were on their way to the match, television pictures showed. Media photographs also showed some people with rubber bullet marks.
About 500 people took part in the protests according to the Brasilia Federal District's security agency, which said 33 people were injured, including four policemen, and 22 were arrested.
http://nz.sports.yahoo.com/news/article/-/17623572/protests-mar-start-of-confederations-cup-in-brazil/
Munduruku Indians march to the Ministry of Mines and Energy, in Brasilia, Brazil, Tuesday, June 11, 2013. The group along with other had been occupying the controversial Belo Monte dam being built in the Amazon on the Xingu River. They were recently flown to Brasilia by the government for talks to try to end the occupation. Environmentalists and indigenous groups say the dam would devastate wildlife and the livelihoods of thousands of people who live in the area to be flooded.
The Associated Press
June 11, 2013
BRASILIA, Brazil — Brazil's government says more than 100 protesting Indians are expected to abandon the offices of the federal indigenous affairs agency and return to their villages Wednesday.
The chief administrative officer of the Brazilian presidency says 140 Mundurucu Indians occupied the offices of Funai on Monday to protest the construction of a huge hydroelectric dam in the Amazon rainforest.
Gilberto Carvalho says the government will ask a court to issue an eviction notice if the Indians refuse to leave.
The government has said the Belo Monte dam will be a source of clean, renewable energy, and says damage to the environment will be minimized.
But environmentalists and indigenous groups say the dam would devastate wildlife and the livelihoods of 40,000 people who live in the area to be flooded.
Read more here: http://www.newsobserver.com/2013/06/11/2955786/brazil-indian-protesters-to-return.html#storylink=cpy
People protest against the rise in public bus and subway fares in the Brazilian city of Sao Paulo on June 11, 2013.
Thu Jun 13, 2013 12:32PMSome 10,000 protesters took to the streets on Tuesday night, setting fire to a bus and blocking the city's main road, Avenida Paulista. The protesters called on authorities to revoke the 6.7 percent price rise plan on public transport. Similar demonstrations were also held last week in other Brazilian cities, such as Natal, Goiania and Salvador, where clashes occurred between police and protesters. More than 300 protesters gathered outside the assembly building and blocked some of the streets in the area.
http://www.presstv.ir/detail/2013/06/13/308797/police-arrest-25-protesters-in-sao-paulo/
Reuters/Reuters – Munduruku Indians sit in front of security guards protecting Planalto Palace during a protest, where they were prevented by security forces from entering the palace, in Brasilia June 6, 2013. REUTERS/Lunae Parracho
http://uk.news.yahoo.com/brazils-indian-affairs-chief-resigns-amid-land-tensions-004618960.html#5uS2aBo
May 29 2013
Brazil's treatment of its indigenous people violates their rights
International pressure must be brought on Brazil to protect its native peoples against industrialisation of the Amazon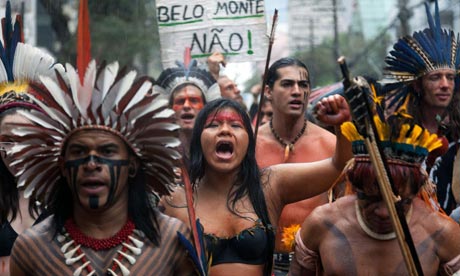 Representatives of the local indigenous communites and environmental activists demonstrate in Sao Paulo against the construction of Belo Monte dam at Xingu river in the Brazilian state of Para. Photograph: Yasuyoshi Chiba/AFP/Getty Images
Not since the dark days of Brazil's military dictatorship, when the indigenous people were regarded as "obstacles to progress" and their lands were opened to massive development schemes, have they faced such an assault on their rights.The fortuitous discovery of the landmark
Figueiredo report
, which documented appalling crimes against Brazil's tribal peoples during the 1940s, 50s and 60s and led to the creation of the tribal rights organisation
Survival International
in 1969, has re-ignited debate, and serves as a warning at a time when the denial of land rights and killing of indigenous people continues.On one side is an intransigent president
whose unilateral view of development
looks set to turn the Amazon into an industrial heartland to fuel Brazil's fast-growing economy. On the other there are
Brazil's 238 tribes, determined to defend their hard-won constitutional rights
and protect their lands and livelihoods for future generations. Tellingly,
Dilma Rousseff
is the only president since the fall of the dictatorship in 1985 who has not met with indigenous peoples.This is a battle for the rule of law and the right to self-determination, a cornerstone of the
UN declaration on the rights of indigenous peoples
. As the Coordination of Indigenous Organisations of the Brazilian Amazon, or
COIAB
, recently stated: "The current government is trying to impose its colonial and dominating style on us … [it] has caused irreversible harm to indigenous peoples using bills and decrees, many of them unconstitutional."http://www.guardian.co.uk/commentisfree/2013/may/29/brazil-indigenous-people-violates-rights
Now On YouTube: Indigenous Groups Burst Into Brazil's Congress to Protest Land Rights Bill
BY Jessica McKenzie | Thursday, May 2 2013
Screengrab from political journalist's video of protest on
YouTube
fter waiting an entire day for an audience with Brazil's Chamber of Deputies to discuss a controversial bill,
hundreds of aboriginal Brazilians bypassed security guards and burst into the session
. The disruption was caught live on the Chamber of Deputies TV channel,
and later posted on YouTube
. A
political journalist
posted
a second, shakier video
that shows confusion and chaos during the protest.The indigenous groups were protesting a bill that would make the National Congress the authority on territorial claims, which they fear would give political advantage to Brazil's ranchers, who often clash with indigenous groups over land rights. Under the current system, the government agency National Indigenous Foundation conducts studies and makes decisions about land demarcation.The protests nearly coincided with Brazil's Indigenous April, which takes place on April 19 in the capital city Brasília. Between 300 and 700 Brazilians representing 76 ethnicities took part in the protest.http://www.youtube.com/watch?feature=player_embedded&v=-wSftfutY5sAfter waiting an entire day for an audience with Brazil's Chamber of Deputies to discuss a controversial bill,
hundreds of aboriginal Brazilians bypassed security guards and burst into the session
. The disruption was caught live on the Chamber of Deputies TV channel,
and later posted on YouTube
. A
political journalist
posted
a second, shakier video
that shows confusion and chaos during the protest.The indigenous groups were protesting a bill that would make the National Congress the authority on territorial claims, which they fear would give political advantage to Brazil's ranchers, who often clash with indigenous groups over land rights. Under the current system, the government agency National Indigenous Foundation conducts studies and makes decisions about land demarcation.The protests nearly coincided with Brazil's Indigenous April, which takes place on April 19 in the capital city Brasília. Between 300 and 700 Brazilians representing 76 ethnicities took part in the protest.
Global Voices translates from a YouTube video in which a congressman from the Party for Socialism and liberty defined the protest as an assertion of constitutional rights: "If it is passed by Congress, where the rural lobby have a majority, the demarcation of indigenous land and the creation of conservation units will never again be approved. Therefore, this act of resistance by indigenous people is a warning to the Chamber of Deputies and to the National Congress."
http://techpresident.com/news/wegov/23833/now-youtube-indigenous-groups-burst-brazil%E2%80%99s-congress-protest-land-rights-bill
April 27, 2013
An Indian man climbs a ladder next to a message that that reads in Portuguese, "Please, don't weaken our fight," on the site of an old Indian museum, in Rio de Janeiro, Brazil, Saturday, Jan. 12, 2013. Police in riot gear on Saturday surrounded the site, now an indigenous settlement of men and women living in 10 homes, in preparation for their eviction. The settlement is next to the Maracana stadium, pictured in background, which is being refurbished to host the opening and closing ceremonies of the 2016 Olympics and the final match of the 2014 World Cup. The streets around the stadium will also undergo a vast transformation as part of the area's transformation into a shopping and sports entertainment hub. (AP Photo/Felipe Dana)
http://bigstory.ap.org/article/rio-public-defender-criticizes-indian-eviction-bid
Associated Press
Friday 19 April 2013
Last Update 18 April 2013 12:11 am
BRASILIA, Brazil: About 700 Brazilian Indians are occupying part of the lower house of Congress to protest a proposed amendment that would give Congress a say in the demarcation of indigenous territory.
The Indians say they will not leave the offices of the Constitution and Justice Commission until the president of the Chamber of Deputies, Henrique Eduardo Alves, reverses his decision to form a commission to deal with the amendment.
First Nation People World Revolution 2013
Around the world, natives are rising together for the 'Will to Do Good' for all mankind. Oppression has swindled the future away for Middle Class America, where children come out of school with $60,000 dollars of debt or more, no good paying jobs, a growing militarization of the Homeland, bills which state anyone can be disappeared to a concentration torture camp legally under NDAA. America has been exposed as not being for THE PEOPLE. Politicians, including Barack Obama, are corporate employees. And they know it. It has been shown very clearly that America is the CORPORATE UNITED STATES, with the 2010 Supreme Court ruling known as Citizens United-the game was over. Legalized bribery now defines the political process. The bankers and corporate king makers like such as the Koch brothers rule the once great nation of America. America has fallen. With military and economic tentacles stemming from America's own cancerous cell- The privately owned and foreign operated Central Bank charter- The Federal Reserve System, the global machine is growing in absolute corruption against humanity. The 100th year of charter over America, has shown the complete destruction of the Land of the Free & Brave. The Goldman Sachs Project of Europe has enslaved the EU to banker control. All nations are in debt to their new masters of Earth. With no care for life, no value for love, this is why the people stand above. No care is made for mother Earth. Oil contamination, radioactive leaks, chemical swamp pits, fracking, hundreds of thousands of EMF wireless waves effecting the Bee Collapse, and mass die offs of birds and fish by disturbing the magnetic waves of the planet. The controllers are out of control. The people of Earth are united in solidarity with waves of revolution spanning the globe. A Global Awakening on the Internet Wars, mankind creeps towards total authoritative dictatorship if nothing is done to solve the problems of the age. Mankind knows it must be done together.
The most retrograde elements of corporate capitalism, such as the Koch brothers, are the undisputed king makers. They decide who gets elected by anonymously pouring hundreds of millions into campaigns. They hang with their SuperPACs like vultures over the heads of every federal and state legislator. Any politician who dares to challenge corporate demands and unregulated corporate capitalism knows they will be thrust from political life as well as their highly paid corporate jobs once they leave office. Politicians, including Barack Obama, are corporate employees. And they know it. Corporate money had corrupted the American political system even before the 2010 Citizens United ruling. We had 35,000 corporate lobbyists in Washington by 2010 writing legislation and funneling corporate donations to compliant politicians.
http://idlenomore.ca
We contend that: The Treaties are nation to nation agreements between The Crown and First Nations who are sovereign nations. The Treaties are agreements that cannot be altered or broken by one side of the two Nations. The spirit and intent of the Treaty agreements meant that First Nations peoples would share the land, but retain their inherent rights to lands and resources. Instead, First Nations have experienced a history of colonization which has resulted in outstanding land claims, lack of resources and unequal funding for services such as education and housing.
We contend that: The state of Canada has become one of the wealthiest countries in the world by using the land and resources. Canadian mining, logging, oil and fishing companies are the most powerful in the world due to land and resources. Some of the poorest First Nations communities  have mines or other developments on their land but do not get a share of the profit. The taking of resources has left many lands and waters poisoned – the animals and plants are dying in many areas in Canada. We cannot live without the land and water. We have laws older than this colonial government about how to live with the land.
We contend that: Currently, this government is trying to pass many laws so that reserve lands can also be bought and sold by big companies to get profit from resources. They are promising to share this time…Why would these promises be different from past promises? We will be left with nothing but poisoned water, land and air. This is an attempt to take away sovereignty and the inherent right to land and resources from First Nations peoples.
We contend that: There are many examples of other countries moving towards sustainability, and we must demand sustainable development as well. We believe in healthy, just, equitable and sustainable communities and have a vision and plan of how to build them. Please join us in creating this vision.
Representing the Native Presence in the "Occupy
Wall Street" Narrative
John Paul Montano, an Anishinabe writer and his open letter to the "occupiers" in NYC 2011:
I hope you would make mention of the fact that the very land upon which you are protesting does not belong to you – that you are guests upon that stolen indigenous land. I had hoped mention would be made of the indigenous nation whose land that is. I had hoped that you would address the centuries-long history that we indigenous peoples of this continent have endured being subject to the countless '-isms' of do-gooders claiming to be building a "more just society," a "better world," a "land of freedom" on top of our indigenous societies, on our indigenous lands, while destroying and/or ignoring our ways of life. I had hoped that you would acknowledge that, since you are settlers on indigenous land, you need and want our indigenous consent to your building anything on our land – never mind an entire society.
I am the artist of the Oakland image. A big inspiration for my piece was to honor the work of Chochenyo Ohlone and other Native folks who had recently organized to protect a sacred site-Sogorea Te in the city of Vallejo. I worked with them to create a graphic for that too. What isn't mentioned is that Occupy Oakland started with those organizers opening it. I think what you address about centering demands about current issues is super relevant. I also like what you say about stoic images. I debated with using an image of a youth laughing to demonstrate the on going presence of Ohlone people on their traditional lands…but went with this woman because I felt like overall women are often relegated to the margins and absent from the picture all together.My piece was a call to potential organizers of the Occupy movement in Oakland to remember that they are "occupying" already Occupied land.I liked the idea of calling folks to action around a decolonization process. Here in Oakland they are hosting political education classes and folks have been very receptive. People are now advancing the discussions in the camps and advancing the message to decolonize, occupy and liberate.

Sincerely,
Melanie Cervantes
Dignidad Rebelde
http://nativeappropriations.com/2011/10/representing-the-native-presence-in-the-occupy-wall-street-narrative.html
Occupy Denver has taken a bold stance, i
ncorporating a 10 point platform from the Denver American Indian Movement
into the overall message of the movement. The points can be read in full
here
, but here is an expert from the intro:
 If this movement is serious about confronting the foundational assumptions of the current U.S. system, then it must begin by addressing the original crimes of the U.S. colonizing system against indigenous nations. Without addressing justice for indigenous peoples, there can never be a genuine movement for justice and equality in the United States. Toward that end, we challenge Occupy Denver to take the lead, and to be the first "Occupy" city to integrate into its philosophy, a set of values that respects the rights of indigenous peoples, and that recognizes the importance of employing indigenous visions and models in restoring environmental, social, cultural, economic and political health to our homeland.